Berlin guide for intellectuals, part 1.
Berlin
: "
Capital city of Germany. Poor but sexy.
"
Intellectual
: "
A person who places a high value on or pursues things of interest to the intellect or the more complex forms and fields of knowledge, as aesthetic or philosophical matters, especially on an abstract and general level.
"
Part 1) A mini guide to Berlin for geeks, nerds, makers, and other thinking misfits. I'm trying to list things here unique to Berlin, and Germany which may pique the interest of the intellectually curious.
I'm mainly writing this for my many friends who are visiting over the summer... but if you have any tips, or URLs to interesting things please email me ( rene@f0o.com ) or leave a note in the comments. Thanks! I have a *lot* more to add, but this is a good start I think. Hope someone finds it useful. Sorry for the pretentious name

;)
Club Mate
"
Do you have any more of that disgusting energy drink? It's gonna be a long night.
" — Julian Assange
Move over coffee! Each serious intellectual movement has its drug of choice, and that is no different in Berlin. Where the drink of choice amongst makers is Club Mate.
CLUB-MATE
"It tastes like cold tea and cigarettes. Like when someone puts their cigarette in your cup of tea the night before, and you drink it in the morning by mistake.
" — Anonymous friend.
Berlin Philharmonic
The Berlin Philharmonic
was voted the worlds number two orchestra in 2008, and ranked as top 3 in Europe by
mumble mumble...
The exact awards they won escape me, but they are FUCKING GOOD. That is the main point, and you can go to see them.
The schedule, and tickets can be found at the
The Berlin Philharmonic website
.
Berlin Philharmonic Orchestra in 2006. Photo by Monika Rittershaus.
(Philharmonie on summer break until 30th August)
Deutsches Technikmuseum Berlin
"
But didn't the USA invent computers? And aeroplanes, and the wheel?
" — Me.
Section of the Z1 replica
"
In fact, the information age can be said to have begun in the 1930s, within walking distance of the German Museum of Technology. In Berlin-Kreuzberg, the inventor Konrad Zuse built the world's first computers. On the occasion of his hundredth birthday, the museum's Department of Computing and Automation is presenting a newly conceived permanent exhibition: in the space of roughly 300 square meters (over 3000 square feet), the life and work of Konrad Zuse are presented in six thematic units and placed in the context of the worldwide history of technology.
" --
Mathematics and Computer Science exhibition
.
The Z3 computer (made in Berlin) was "the world's first working programmable, fully automatic digital computer". The
Deutsches Technikmuseum Berlin
has a display devoted to its maker,
Konrad Zuse
.
Computer play museum
"
We were walking down around here earlier, and damn! It's like New York in the 80's. So fresh.
" — They Might Be Giants.
A museum dedicated to play and computer games? Why not?
"
Our new permanent exhibition "Computerspiele. Evolution eines Mediums" ("Computer Games. Evolution of a Medium") opened on the 21st of January, 2011. Over 300 exhibits, including rare originals, playable classics and art works from the game-art sector and interaction performances, conspire to turn you into "Homo Ludens Digitalis", so that you can create your own image of the game players of the 21st century. Experience a historical journey with highlights for every generation.
"
Computerspielemuseum
Karl-Marx-Allee 93a, 10243 Berlin
http://www.computerspielemuseum.de/1210_Home.htm
Chaos computer club.
A hacker club with its origins in the 80s named after Chaos theory. You may want to disable your wireless and mobile phone before visiting any of their events ;)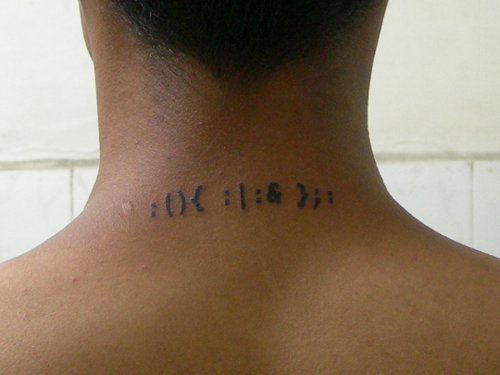 Forkbomb tattoo
"
The Chaos Computer Club e. V. (CCC) is Europe's largest association of hackers. For more than thirty years we are providing information about technical and societal issues, such as surveillance, privacy, freedom of information, hacktivism, data security and many other interesting things around technology and hacking issues. As the most influential hacker collective in Europe we organize campaigns, events, lobbying and publications as well as anonymizing services and communication infrastructure. There are many hackerspaces in and around Germany which belong to or share a common bond to the CCC as stated in our hacker ethics.
"
https://en.wikipedia.org/wiki/Chaos_Computer_Club
Tischtennis (Ping Pong)
Tisch means table in Deutsch(German), and Tennis means... tennis. Add them together and you get Tischtennis. Which means Ping Pong. Got it?
Tischtennis is everywhere
Rumour has it, in the GDR Stasi times, East Berlin people are said to have played ping pong to stop the spies from recording their conversations. These days, there are still some bars which have Tischtennis inside, sometimes in the basement through a side door. Outside, Berlin has a LOT of Tischtennis tables all around the city which you can use for free.
Check out
http://www.pingpongmap.net/
(bookmark it on your phone), so you can see where the tables are around you.
One type of game which is fairly popular in groups is called Around the world. Each person has a bat, and the people run around the table taking turns at a hit. If you lose the point, you are out of the game and you stand aside. As many as 30 people play at once, and it's great fun.
Whilst you are playing, you can pretend to be hiding secrets from spies too ;)
Co-working, and hacker spaces, meetups
You want to meet some people, hear their ideas or make something with others? Berlin is a freelancers dream. Plenty of places to hang out in and do some making. When visiting a city, going to the various meetups can be a great way to meet people. Interested in bee keeping? Or want to know how to make a synthesiser out of toothpicks? There's probably a meetup or workshop for you. Check out meetup.com, lanyrd, or just search for "berlin X usergroup" on a Search Engine and you'll probably find a few options to your liking.
If you need to do some serious work, perhaps a
coworking
space will be better than sitting in a café. There's plenty around, and they mostly allow drop ins just for the day. Most of them charge around 12 euros per day.
Note:I'm just listing Coworking spaces that have day rates.
Drinking, Berlin style.
"How do you say Beer in German? Bier. Oh.
" — Not you.
Feierabend, means home time, or Beer O'clock. You'll see many Berlin people with a beer open walking home from work.
The locals love beer in Berlin, and you can get a nice bottle from about a euro from a corner shop called a "Spätkauf" or "Späti". You are allowed to drink whilst walking home from work, and you are allowed to drink in many parks.
Spätkauf
Many bars have table service, and you pay at the end of your drinking session. Although, not for all bars. Whilst Berliners mostly drink beer you can get plenty of other booze. You can get a Gin, Wodka, and many fine wines made either in Berlin or Germany.
There's not so much of a "rounds" culture. If you offer to pay for someones drink they may look at you funny. I regularly encounter people who are completely baffled by the concept.
There's not much wine made in Berlin, but there is in the south of Germany. To get the low down on German wine, the wikipedia page has a good enough article. https://en.wikipedia.org/wiki/German_wine If you want dry wine, look for "trocken". I think the "Grauburgunder" wines are sort of good, and quite underrated if you want to try something different. Whereas German wine is best known for its Riesling. "Ice" wines are another interesting style. If you're from outside of Europe, then you have a massive task ahead of you coming to grips with endless wine varieties :) Bubbles (sparkling wine) is called Sekt, and you can get a drinkable bottle from a few euros.
Words on paper, Book shops
"Mmmm, book smell.
" — Readers.
Does hanging out in bookshops eating bagels and reading books sound appealing? Once you have your book, your adventure begins. Take your book to a park (or a lake) and drink in the day with book smell and sun.
http://www.yelp.com/search?find_desc=Book+Stores&find_loc=Berlin
http://www.slowtravelberlin.com/berlins-best-bookshops/
Music to take home, Record stores.
You know those black spinning things which have tiny little groves in them? It turns out a lot of people still make them.
Berlin is not only a centre of classical music within Europe, but is also a hub of many other types of more modern music. Berlin is the capital city of the underground if you are into electronic music. It's where soundcloud is, and it seems every third person in the street is a DJ. Germans also love their metal, and punk too. So you can often pick up some great discs if you're into that sort of thing.
Unsurprisingly there are a
*lot*
of record shops you can hang out in. You could spend hours, days, and even months flicking through crates and listening to lost sounds. Many of the flee markets also have record sellers.
You can pick up local genres of music like
Neue Deutsche Welle
(https://en.wikipedia.org/wiki/Neue_Deutsche_Welle) or music from the GDR. I've personally started collecting German sea shanties (yes, the record store owners usually laugh at me when I make my purchases).
http://record-shops.org/berlin/
http://www.recordjunkie.com/stores/directory/germany/berlin
http://www.factmag.com/2013/11/27/record-shopping-in-berlin/
http://www.yelp.com/search?find_desc=Record+Stores&find_loc=Berlin
https://foursquare.com/matas/list/vinyl-in-berlin
Be nice to Berlin, and Berlin will be nice to you.
Be a considerate little tourist will ya? You don't like it when someone spews up on your doorstep yeah?
Berlin will ♥ U if U ♥ Berlin.
Do say hallo and smile at people.
Do put your recycling in the correct bins.
Don't take photos of people without asking. Privacy is important to Germans.
Do tip. It's not expected but people love it!
Don't use AirBNB or similar. It drives up the rents for people trying to live in the city.
Don't say the N word.
If you are going to put something on a wall, please make it good.
Where else to look? Blogs, Websites, Facebook.
What's up this week Berlin? There's lots of blogs, websites, and facebook groups in English. Many of the blogs below have lists of other blogs to check out too.
10 things to do in a Berlin summer
Long form articles about Berlin in the "slow travel" tradition.
A visual magazine about Berlin.
http://www.findingberlin.com/
Most big clubs are on resident adviser of course :)
http://www.residentadvisor.net/events.aspx?ai=34
A daily email magazine with things to do.
http://www.sugarhigh.de/
LGBT clubbing, and such.
http://www.discodamaged.net/
Food, design, and life in Berlin.
http://reified.typepad.com/
Berlin design blog is about... well.
http://www.berlindesignblog.de/
I heart Berlin is a blog about Berlin, also with a weekly events guide.
http://www.iheartberlin.de/
A blog about ... [guess... go on! ...] Berlin!
http://www.uberlin.co.uk/
Safety.
"Mind the gap!
" There, I've warned you to mind the gap. Try and remember that, since it won't be repeated at you every three minutes.
Keep off the bike paths! You might get hit by a bike rider. The bike paths are often separated from the roads, and next to pedestrian ones. People new to Berlin are sometimes not used to bike paths, and hopefully just get a bell rung at them a few times rather than have a collision with a bike.
Riding your bike in Berlin is waaaaay safer than many cities in the world. There's bike paths, and many car drivers are used to bikes. Most people don't wear helmets, since you are not required to by law.
Going to a gallery opening held inside an abandoned office block might sound cool, until you fall through the floor and realise the walls are made of asbestos.
Berlin is pretty safe compared to many big cities. But there are areas a bit more wild than others. I know many women who go around Berlin by themselves and feel safe. Neuköln in particular seems to be a place which gets more reports of trouble. Having said that, Neuköln is a really fun place with many interesting things. Just be aware at night, and maybe don't go alone. If you walk through a park at night, you'll probably get offered illegal drugs.
This is not a complete safety guide, but covers some basics. You should probably look up a more comprehensive guide.
More to come...? Corrections, feedback?
If you liked this, and want more please leave a comment :) Or if you have a suggest, please comment or email me ( rene@f0o.com ).