Risk with spaceships. Galcon is kind of like the game risk - but with space ships.
The most fun can be had playing multiplayer on the internet with others.
Download the windows version
Download the MacOSX version
A linux version is also in the works. It should be up on the site within a week or so on the
Downloads
page.
Galcon was made using Python, pygame and PGU. It uses some C extension modules for the graphically intense parts. Like the additive blending modes for particle systems, and custom nice fast space ship drawing code.
It's great to see another quality game being made in python.
The networking uses UDP so that network games are quite good. I can even play games here in Australia with people in the USA and elsewhere. Even with 400ms ping times.
The single player game is fun too. With a whole bunch of different missions to play through. Different AI bots are used which give different challenges.
There's a small group of Galcon multiplayer people giving the game a whirl most of the time. Some of them ranked as Admirals, and others ranked as lowly cabin boys.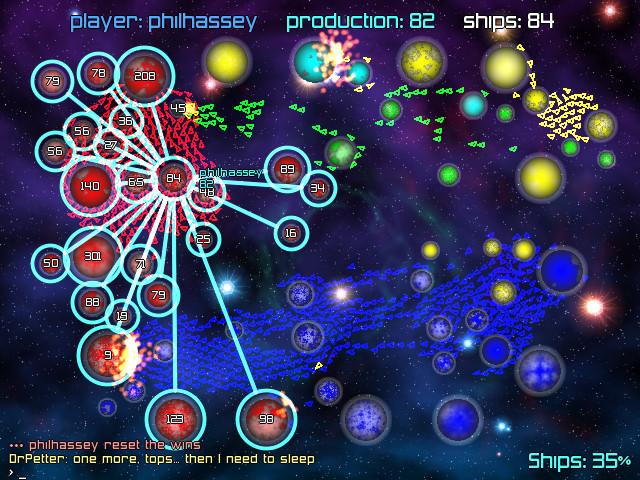 Congratulations to Phil for releasing Galcon! I know Phil has worked quite hard since Galcon won the ludumdare game development competition six months ago. Six months of polishing Galcon so that is plays really nicely has paid off.
I'll see some of you in the multiplayer battles for
Galactic Conquest
. Attack!!!
Written by a
Melbourne web developer
. Available for your projects - php, mysql, e commerce, javascript, CMS, css, flash, actionscript, python, games, postgresql, xml.